TTR500 Series Vector Network Analyzer (VNA)
Legendary support and quality meet ease-of-use and affordability. The Tektronix TTR500 Series 2-port, 2-path vector network analyzer is our latest breakthrough – an unmatched combination of measurement performance and convenience at 40% lower price than leading benchtop alternatives!
Get the power to make everyday measurements with the accuracy and confidence you expect from Tektronix, without breaking your budget.
Benchtop performance at a surprising price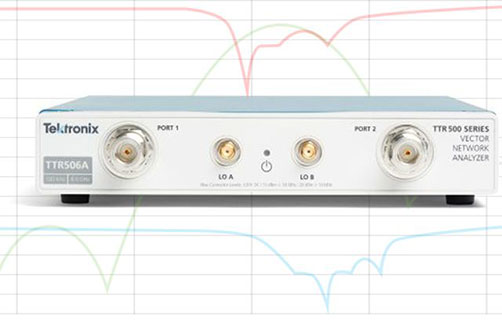 The TTR500 Series rivals the leading benchtop competition, at 40% lower price! It delivers better RF performance on key parameters like dynamic range and includes a built-in Bias Tee you may have paid extra for in the past. The new TTR500 Series VNA gives you all the capability and performance you need in a 6 GHz 2-port VNA at a price you can afford. Why settle for less?
Highlights
Frequency Range: 100 kHz up to 6 GHz
Dynamic Range: Greater than 122 dB
Trace Noise: Less than 0.008 dBrms
Output Power: -50 to +7 dBm
Smart innovations, reduced cost and size
The TTR500 Series VNA tightly integrates six RF receivers and two RF sources into a proprietary ASIC. With its innovative architecture and patented technology, the TTR500 Series VNA achieves the same level of performance as a benchtop VNA, but at 40 percent lower cost and one-seventh the size and weight of units with comparable performance.
Highlights
Integrating RF capabilities into the ASIC provides higher reliability
13 watt power draw means no noisy fan, low energy consumption
Patented DSP for dynamic range improvement
3-year standard warranty
Learning curve? There is none
It's simple. Our industry-standard interface allows you to spend less time getting up to speed, so you'll have more time to test your design. The VectorVu-PC software delivers a traditional look and feel for controlling and calibrating the instrument with any Windows PC or laptop. For automated test systems, programmatic support is offered for common legacy VNAs for easy integration into existing test systems.
Highlights
Run VectorVu-PC in offline mode to analyze stored data
Output file format compatible with common EDA simulation tools
SCPI command compatible with common legacy VNA
Have your own Vector Network Analyzer
Gone are the days of having to roll around a shared VNA. The TTR500's small, compact form factor and low price enables your company to have one on every engineer's bench, improving efficiency and uptime. In education, an affordable vector network analyzer allows more students to get hands-on time with standard industry test instrumentation.
Highlights
No need to rent or borrow VNAs, adding time and expense to projects
Small enough to slip into a briefcase or desk drawer
Share VNA displays, teach new concepts and review progress over PC networks
PC-based architecture (USB 2.0) provides convenient accessibility to your captured data
The next USB instrument, from the company that knows it best
Building on the success of our real-time USB spectrum analyzers, we've brought the same innovation and trusted form factor to the TTR500 Series VNA. The USB link separates measurement acquisition from analysis, providing a variety of benefits.
Highlights
Upgrade quickly to the latest computer technology by simply replacing the PC
Choose the best display size for your application: tablet, laptop or external monitor
Use your own personal copy of VectorVu-PC, and keep your presets, file structure, and other settings just as you like them
Convenient file sharing using standard Windows networking for applications such as EDA tools
Improved reliability by removing common source failures – displays, control knobs, and processors
Models
| Model | Frequency Range | Ports | Dynamic Range | |
| --- | --- | --- | --- | --- |
| TTR503A | 100 KHz - 3 GHz | Two ports, type-N female connectors | >122 dB | |
| TTR506A | 100 KHz - 6 GHz | Two ports, type-N female connectors | >122 dB | |