Keithley 4200A-SCS Parameter Analyzer
Accelerate research, reliability and failure analysis studies of semiconductor devices, materials and process development with the 4200A-SCS. The highest performance parameter analyzer, it delivers synchronizing current-voltage (I-V), capacitance-voltage (C-V) and ultra-fast pulsed I-V measurements.
Parametric insight, fast and clear.
Making connections to your bold discoveries has never been easier. The 4200A-SCS Parameter Analyzer reduces characterization complexity and test setup by up to 50%, providing clear, uncompromised measurement and analysis capability. Plus, embedded measurement expertise—an industry first—provides test guidance and gives you supreme confidence in your results.
Highlights
Built-in measurement videos in English, Chinese, Japanese, and Korean
Jump start your testing with hundreds of user-modifiable application tests
Automated real-time parameter extraction, data graphing, arithmetic functions
Measure. Switch. Repeat.
The 4200A-CVIV Multi-Switch automatically switches between I-V and C-V measurements without re-cabling or lifting the prober tips. Unlike competing products, the four-channel 4200A-CVIV display provides local visual insight for quick test setup and easy troubleshooting when unexpected results occur.
Highlights
Move C-V measurement to any device terminal without re-cabling
User-configurable for low current capability
Personalize the names of output channels
View real-time test status
Characterize. Customize. Maximize.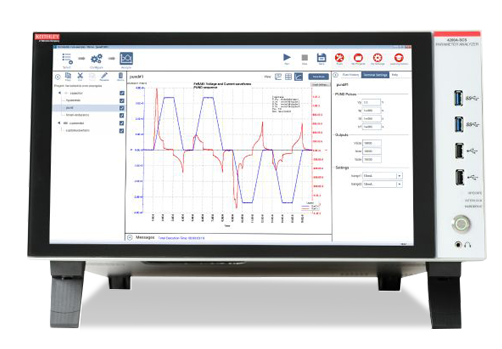 Put simply, the 4200A-SCS is completely customizable and fully upgradeable so you can perform electrical characterization and evaluation of semiconductor devices, new materials, active/passive components, wafer level reliability, failure analysis, electrochemistry or virtually any type of sample.
Highlights
NBTI/PBTI testing
Random telegraph noise
Non-volatile memory devices
Potentiostat application tests
Integrated solution with analytical probers and cryogenic controllers.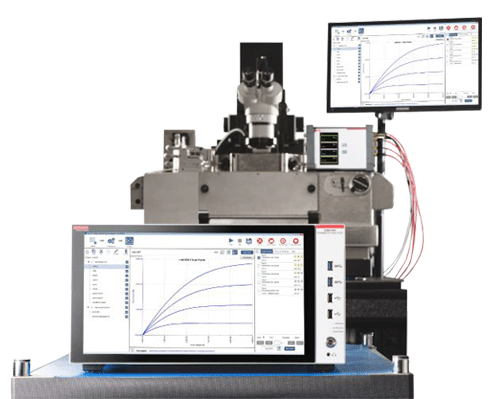 The 4200A-SCS Parameter Analyzer supports many manual and semi-automated wafer probers and cryogenic temperature controllers, including Cascade MicroTech, Lucas Labs/Signatone, MicroManipulator, Wentworth Laboratories, MicroManipulator, LakeShore Model 336 cryogenic temperature controller.
Highlights
"Point and click" test sequencing
"Manual" prober mode tests prober functionality
Fake prober mode enables debugging without removing commands
Models
Model
Current-Voltage (I-V) Range
Capacitance-Voltage (C-V) Range
Pulsed I-V Range
4200A-SCS
10 aA - 1A
0.2 µV – 210 V
1 kHz – 10 MHz
± 30V DC bias
±40 V (80 V p-p), ±800 mA
200 MSa/sec, 5 ns sampling rate